COTABATO CITY, Southern Philippines  — The vice mayor of Barira in Maguindanao has been placed in custody in Sultan Kudarat for allegedly trying to take control of election materials intended for his town.
An abandoned van containing ballots intended for a neighboring municipality was also found at the back of the Barira Municipal Hall.
Vice Mayor Alexander Tomawis denied the allegations, however, saying the convoy he was with and the car ferrying Kadir Manalao, who had custody over the materials, just happened to converge at the same point.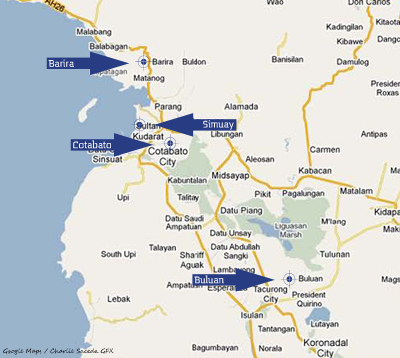 "It was just coincidental that we came in a convoy, I came from Cotabato and (Manalao) came from Buluan, We just met in Simuay. So they think we came together," Tomawis said.
Manalao is the municipal treasurer of Barira.
He likewise claimed no knowledge over the abandoned vehicle with ballots for the Municipality of Buldon that found at the back of his town's municipal hall.
His wife, Bai Ruth "Tata" Tomawis is mayor of Buldon and his mother, Rocaya, is the incumbent mayor of Barira.
Vice Mayor Tomawis instead accused Col. Ernesto Aradanas, commander of the 603rd Army Brigade, of dipping his hands into local politics, saying the official is a supporter Sultan Kudarat Mayor Tucao Mastura, to whom he said he is not in good terms with.
He maintained the establishment of a checkpoint in Sultan Kudarat was a setup planned by the colonel and the Sultan Kudarat local executive.
Aradanas said they intercepted Tomawis' convoy around eleven in the morning, Sunday, (Oct. 24) and immediately retrieved the ballots which, he added, they determined to be intended for Barira town.
He confirmed that Tomawis is under "invitation" to the army headquarters for questioning and that Tomawis initially refused and chose to stay in his vehicle.
The mayor was later brought to the Municipal Hall of Parang, another municipality in Maguindanao, where he was held at the office of IRA 155, a quick-response civic organization ran by the Iranun tribe.
No charges have been filed as of yet.
Aradanas said he received reports against Tomawis earlier that Sunday and decided to flag him down at around the same time his soldiers separately discovered the abandoned dump truck in Barira.
"He is viewed as trying to do partisan activities or electioneering activities which is forbidden", Aradanas said, adding that they are "deputized to arrest and put them into restriction." (Reports from Ben Jason O. Tesiorna and Ferdinandh Cabrera for PECOJON PH)
Where is Maguindanao?
[cetsEmbedGmap src=http://maps.google.com/?ie=UTF8&ll=6.888254,124.519043&spn=1.644174,2.90863&t=h&z=9 width=700 height=200 marginwidth=0 marginheight=0 frameborder=0 scrolling=no]