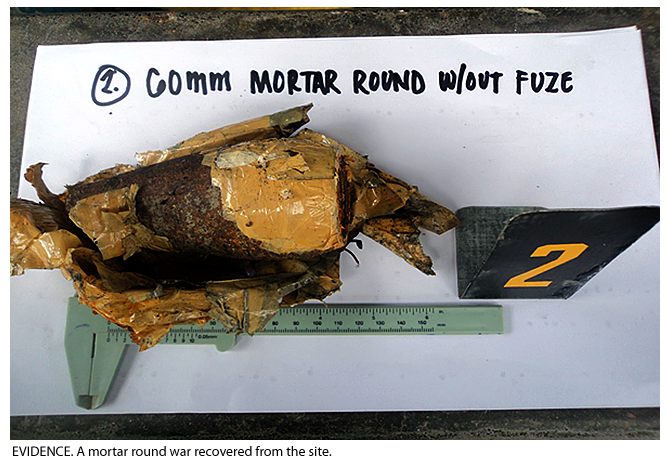 Three people were hurt when a bomb was detonated outside a department store in Tacurong City, Sultan Kudarat a day after Christmas; over a week after police operatives gunned down a suspected Jemaah Islamiyah bomber in neighboring Davao City.
Sr. Supt. Rolen Balquin, Sultan Kudarat Police Office chief, said the bomb was made from a 60-mm mortar munitions attached to a mobile phone. It was the same kind of device recovered after the Davao City PNP killed Malaysian Mohd Noor Fikrie bin Abd Kahar in the evening of Dec. 15.
"We don't discount the possibility that the same lawless groups might be behind the series of blasts here, knowing that the same type of bombs were used to sow terror in our area," Balquin said of the Tacurong City incident.
None of the armed groups operating in Central Mindanao have owned up to the night-time blast that, according to reports, happened while army bomb-techs were busy defusing another explosive near a police precinct and while police were investigating a grenade throwing incident in another part of town that slightly injured a former barangay councilor.
The Moro Islamic Liberation Front was tagged in bombings in previous years. However, following last October's signing of a Framework Agreement on the establishment of a Bangsamoro Political Entity between it and the national government, the group has maintained and observed a cease fire with the Philippine Military.
Some within the local business community suspect that the bombing outside the Fit Mart store was to threaten traders and soften them up to extortion or the payment of "protection money", making it a peace-and-order issue left under the jurisdiction of local police.
The grenade throwing incident, on the other hand, has since been considered solved with the local police's arrest of one Nasser Abdullah the following night. It has been linked to local politics.
But the police haven't established any connection between Mohd in Davao City and the Tacurong blast.
Mohd was gunned down by elements of the Davao City Police's Swat Team after a standoff and a chase that spanned the area between People's Park and the Apo View Hotel. The bomb was in a backpack in his possession.
Sr. Supt. Ronald dela Rosa, Davao City Police Office director, said they monitored Mohd, who was checked in at a local hotel with his Filipina wife, Annabelle Nieva Lee of Sorsogon Province, after receiving intelligence that they were planning a bomb attack.
The duo, dela Rosa said, went out of their room at around 10:30 p.m. and ran into police officers who had been tasked to secure them.
But Mohd held the police at bay by raising his mobile phone. Police believed that had he hit the call button on the mobile phone, the other mobile phone attached to the bomb would ring and set off the blast.
"If you arrest or shoot me I have a bomb, I will explode it," dela Rosa quoted Mohd as saying while embracing his wife and slowing making his way out of the hotel and into the streets.
"Take down orders were given to SWAT snipers but could not be implemented since the area was overcrowded with pedestrians and motorists," dela Rosa said.
Mohd, however, left his wife and ran towards People's Park and then to the Apo View Hotel with his backpack.
"(A) chase ensued (and) the suspect was cornered at Toryanos in front of the Apo View Hotel, where he was fatally shot by the pursuing SWAT team," Sr. Supt. dela Rosa narrated.
Authorities recovered the bomb, which was subsequently defused, and other supposedly "exploitable materials" that were turned over to the National Intelligence Coordinating Agency, the Philippine Government's spy service.
Mohd's partner was unhurt and has been taken into police custody.
The three injured in the Dec. 26 Tacurong City blast were meanwhile identified as Jessa Dizon Marcelino, 23, of Purok-11, Abadilla Subdivision, Christian Jay Vino Gabaon, 26, of Block-3, Canos Subdivision, Purok-11, and James Biernes Salinda, 26, of EJC Montilla Street, all in Barangay Poblacion. (Reported by Ben O. Tesiorna for Pecojon.PH)