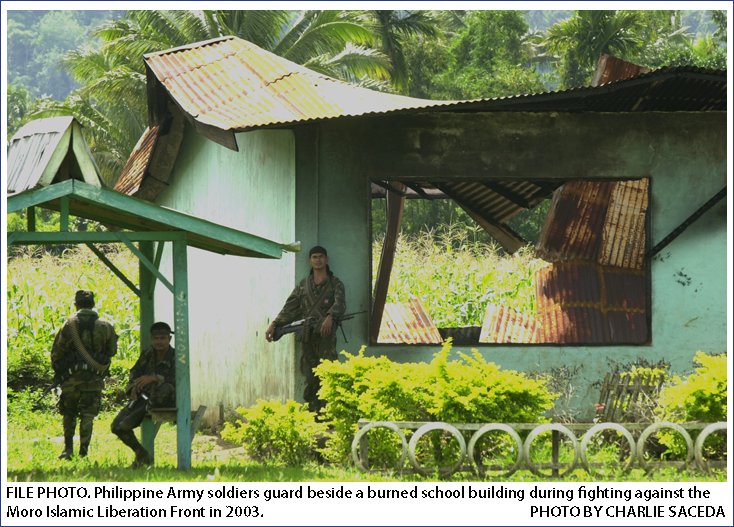 SCHOOLS are increasingly becoming targets of attacks by armed groups operating mainly in "conflict areas" of the country, a United Nations (UN) report said.
The trend in the Philippines is similar to that in 14 other countries as detailed in the UN Secretary-General's 10th Annual Report on Children and Armed Conflict covering January to December 2010 and involves 22 "country situations."
"Out of 22 country situations reported in the Annual Report, 15 make reference to attacks on schools and hospitals," a UN news release said.
"Direct and physical damage to schools seems to be the most recurring violation, but there are also reported incidents of closure of schools and hospitals as a result of direct threats and intimidation (and) military occupation," it added.
"I am concerned about the increasing trend of attacks on schools and hospitals," said UN Secretary-General Ban Ki-moon in the report released on May 11.
The UN report noted 41 incidents of attacks on schools in 2010, a radical increase from only 10 in 2009.
It said 14 of the incidents were attributed to the Armed Forces of the Philippines (AFP), four to the New People's Army (NPA), one to the Moro Islamic Liberation Front (MILF), two to the Al-Qaeda-linked  Abu Sayyaf Group, and six to private armed groups of local politicians.
The perpetrators in some 14 other incidents were unidentified.
"In addition, teachers are increasingly targeted; 11 teachers were reportedly killed during the reporting period," the UN said.
The "upward trend" in attacks on schools in the country during 2010 is partly attributed to the conduct of general elections in May and the village polls in October.Schools are used as polling centres at every electoral exercise which, in conflict-affected areas of the country, are usually characterized by violence and threats of physical intimidation.
The UN also noted "a rising trend of the occupation of schools" in remote communities by the AFP and its militia, the Citizens' Armed Forces Geographical Unit (CAGU), as barracks and command centers, and for storing weapons and ammunitions.
"Schools must be safe places of learning and development for all children. They should be zones of peace," the UN news release quoted Special Representative of the Secretary-General (SRSG) Radhika
Coomaraswamy as saying.
"Those who attack schools and hospitals should know that they will be held accountable," Coomaraswamy added.
In his report, Ban recommended to the UN Security Council that conflict parties found attacking schools and hospitals be included in a "shame list" which is an annex to the Secretary-General's annual report on the subject of children and armed conflict. (Reported by Ryan Rosauro for PECOJONPH/rgr)