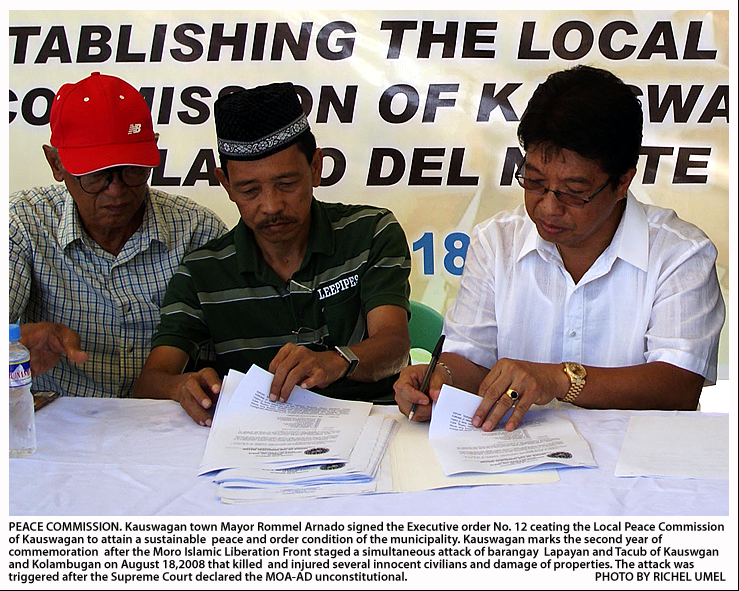 KOLAMBUGAN, Lanao del Norte, southern Philippines – Two years have passed since Moro rebels attacked this town and its neighbor, Kauswagan, killing over a dozen people and burning down houses and a school in a span of days.
And while most of what was razed has been rebuilt, residents admit that it will still be some time before they can put the harrowing experience behind them.
Children struggle just as much, if not even more, explains a school official.
Endowed with keen memory by their youth but too young fully grasp the complexities of man, their vivid recollection of the misfortune risks to color their outlook of the future.
Dr. Maria Luisa Mutia, schools division superintendent of the Department of Education (DepEd) in Lanao del Norte, said stress debriefing, couched in story-telling, has been vital in helping the kids shake off the trauma.
In their eyes
In one such session, the children were asked what to them was war.
One answered "madagma" (to stumble). And as his peers broke into laughter, he explained how people stumbled as they scampered away from the fighting that took place in 2008.
Another, at 12, recalled how he used to love playing with toy guns and pretend they were war heroes. "I hate it," he now says. He was among those who had to evacuate to Ozamiz City after the fighting.
Still another, a 10-year old girl, told of how Christian residents in their village scampered to borrow kumbong, a traditional Muslim veil, from Maranao neighbors so they could pose as Muslims and be spared.
She said they are grateful to the Maranao villagers for helping keep their identities safe during those fateful moments.
In a short program Wednesday last week, Kolambugan Mayor Beltran Lumaque asked townsfolk not to commemorate the tragedy and be reminded of a misfortune.
Instead, he asked that people celebrate what they have achieved in terms of rebuilding and moving on.
But recollection is a necessary step to transcendence, as the debriefing attempts to achieve.
Peace in school
Dr. Mutia, for her part, cites the need to "educate for peace" and explained that schools play a vital role in fostering socio-cultural understanding in multi-ethnic and multi-cultural communities such as those in Lanao del Norte.
Peace education in classrooms for the over 175,000 public elementary and high school students Lanao del Norte, she said, will make peace consciousness a behavioral norm and social practice for the next generations.
Once a year for the last five years, always in an October, DepEd transforms schools in Lanao del Norte into a Peace Village.
It's just like camping, Mutia said. Children live and interact with other through activities that raise awareness on cultural diversity, respect for individuality, and the understanding that "it is possible to live together in peace and harmony."
Mutia's daughter, Pinky, who helped her design the Peace Village program, said that while children are the most vulnerable to the effects of conflict, they are a great resource for transformation.

Agents of change
Pinky recalled an experience when she presided over a read-along activity and asked the kids what they felt during war.
The kids took turns saying they were sad, angry and scared, she said.
At the end of the story, when asked if they think there is still war going on, one child said: "There is because we still quarrel over something," referring to the usual conflicts naturally emanating from differences.
"That was my favorite insight," she related.
She said the children also suggested ways in dealing with this 'war', whether it be in the classroom, at home, or in the community: behave accordingly, make amends, ask forgiveness, share resources, and help each other.
During last year's Peace Village, an elementary school kid joined a story-telling contest and narrated how their community struggled to overcome a creeping sense of polarization among its Maranao and Visayan villagers following the 2008 Moro rebel attack.
Conveying a child's simple hope, he implored: "Maranaos and Christians are the same in the eyes of Allah." (Written By  Ryan D. Rosauro for PECOJON PH)